Student Legacy Campaign
Student Legacy Campaign 
Adelphi students give back to the University during their time on campus through the Student Legacy Campaign. The Student Legacy Campaign is a way for you and your classmates to leave a legacy for future students, just like alumni did for you. This year's Student Legacy Campaign is called Change 4 Change.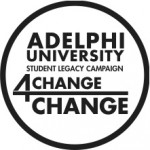 When you return from the bookstore, lunch, or a night out with friends, what do you do with your spare change?  We are asking you to put it aside for the Adelphi Fund. We will give you a bank: your Annual Friend.  He's clear and cute and has a warm smile.  This Change 4 Change mascot will store your coins and dollar bills for you!
There will be Change 4 Change events throughout the year, where you'll have the chance to pick up an Annual Friend and return your full bank with your donation. In addition to the opportunity to give back, our events offer unique and fun activities, not to mention delicious free food.
Giving Back is an Adelphi Tradition
Each year, Adelphi alumni, friends and current students make gifts to support the University.  It is thanks to the generosity of our donors that Adelphi is the University it is today.
You don't have to wait until you've graduated to start showing your support! The goal of Adelphi's Student Legacy Campaign is to secure the participation of Adelphi's student body, help you feel connected to the University you attend, and give you a better understanding of all the things that exist at Adelphi because of the financial support alumni provide.
Out of all the universities across the country and around the world, you chose to attend Adelphi. Now's your chance to show your Panther pride! Help keep Adelphi the special university it is by participating in the Student Legacy Campaign!
FAQs: Here are our responses to some of the thoughts we think you may be having
Why would I make a gift to Adelphi when I'm already paying tuition?
Tuition only covers a portion of the cost of the education you receive at Adelphi. The balance of the remaining cost is funded through gifts alumni make to the University each year.
I'm a college student! I can't afford to make a large gift!
We completely understand you are a college student and likely on a tight budget. Adelphi is not asking for a lot, just that you participate, with whatever amount you can.
The gift I can contribute won't make a difference.
That's not true! It doesn't take a lot to make a big impact. The whole point of the Student Legacy Campaign is participation. You will see that together, the gifts you and your classmates make add up quickly!